"Loved By Few... Hated By Many...
Respected By All."
Welcome to the Sisterhood! A place for female fans of the Undertaker and Kane to meet, talk about, and drool over the Brothers Of Desrtuction. Browse through the photo galleries, indulge yourself in fan fiction, leave your own stories and thoughts on the storyboard, and find links to other Bad Ass sites. Now, open a bottle of Jack, put on some good music, sit back and enjoy the ride!
~Lover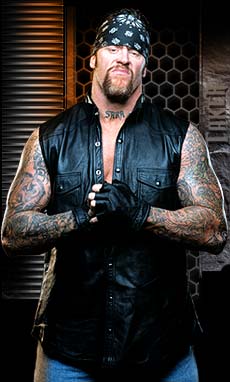 The Undertaker's Bio
Special Thanks
Photos were provided by
Sabretooth's Corrupted Crypt
and Hellfire's Hot Men of Wrestling, and some of the wallpapers were created by
Foleycrazy
. Without them, I wouldn't have most of this delicious eye candy for us to drool over. Thank you ladies!
~Lover

Disclaimer
This site was created by a fan for other fans. I do not make any money here, and I am in no way associated with the WWE or any of the wrestlers featured here. I love watching the WWE and I appreciate everything these men go through to give us a good show! This site is my way of showing that appreciation. So, unless you want an out-of-date computer and a small collection of romance novels, please don't sue me!


If you have any questions or comments, you can email me at takers_lover@yahoo.com, send me an IM via Yahoo! messenger, or sign my guest book.